Let's get to know the highest summits in Ecuador so we can be to point them out in the distance, call their names and look good while we do so. And of course, so we can visit them. This time we will only see each mountain quickly, in future posts we will see their trails hikes individually.
Humboldt once said: "Ecuadorians are rare and unique beings: they sleep peacefully in the midst of crisp volcanoes, live poor in the midst of incomparable riches and rejoice with sad music".
1. CHIMBORAZO
Altitude: 20 564 ft (6268 m)
Location: Chimborazo Province. It cannot be seen from Quito.
It's an inactive volcano and the highest mountain in Ecuador and the world if measured from the center of the Earth. Chimborazo beats Everest (8848 m) and is the neighbor of Carihuairazo that we will see later on.
2. COTOPAXI
Altitude: 19 347 ft (5897 m)
Location: Cotopaxi Province. Southeast of Rucu Pichincha. At 5 o'clock.
It is one of the highest most active volcanoes in the world. It can be seen from Quito and I think almost everyone knows it. Cotopaxi presented a little activity 2 years ago, it seemed like he was going to erupt but then he calmed down and said, not today, not today.
3. CAYAMBE
Altitude: 18 996 ft (5790 m)
Location: Pichincha Province. Northeast of Rucu Pichincha. At 2:30.
It is a volcano that erupted 230 years ago and about 8 months ago presented some activity again. It is said to be one of the most difficult volcanoes to climb.
4. ANTISANA
Altitude: 18 713 ft (5704 m)
Location: Pichincha Province. East of Rucu Pichincha. Around 3 and a half pm.
It's part of an incredible National Park but unfortunately, because of global warming, Antisana is losing its glaciers.
5. EL ALTAR
Altitude: 17 450 ft (5319 m)
Location: Chimborazo Province. It cannot be seen from Quito.
Extinct volcano also known as Kapak Urku. It is part of the Sangay National Park.
6. SANGAY
Altitude: 17 388 ft (5300 m)
Location: Province Morona Santiago.
It is the most active volcano in Ecuador, has been erupting since 1934 and is protected under the Sangay National Park.
7 & 8. THE ILINIZAS (NORTH & SOUTH)
Altitude: 17 217 ft (5248 m) and 16 817 ft (5126 m) respectively.
Location: Cotopaxi Province. South of the Rucu Pichincha. At 6 pm.
Two volcanoes part of Los Ilinizas Ecological Reserve. They are twin mountains but one is harder to climb than the other.
9. TUNGURAHUA
Altitude: 16 479 ft (5023 m)
Location: Tungurahua Province.
It has been active for almost 20 years. Tungurahua hosts very important touristic destinations, such as the known city of Baños.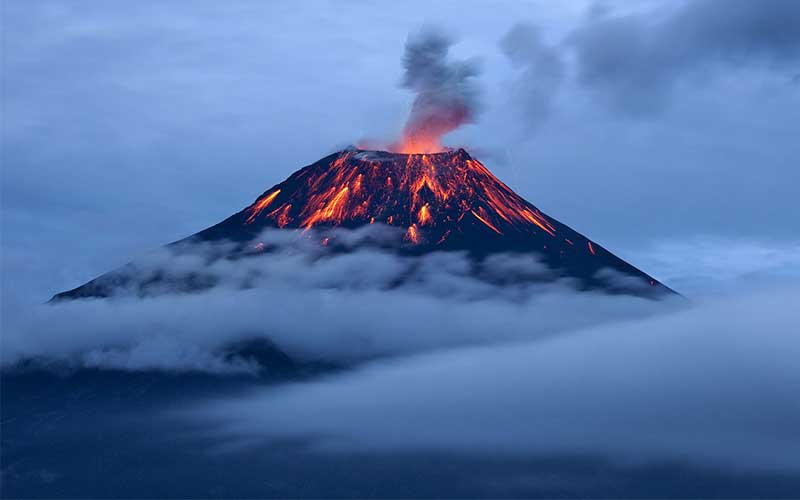 10. CARIHUAIRAZO
Altitude: 16 463 ft (5018 m)
Location: Chimborazo Province.
It is a volcanic caldera, part of the Chimborazo Wildlife Production Reserve. Neighbor of Chimborazo.
Well, it seems that the summits are mostly in Pichincha, Cotopaxi and Chimborazo. Soon we will put the trails that can be experienced in these mountains!
SUBSCRIBE TO OUR NEWSLETTERS